A Meeting of the Senate Standing Committee on Defence and Foreign Affairs 20 Oct, 2016
Senate joint committee briefed on border situation with India and Afghanistan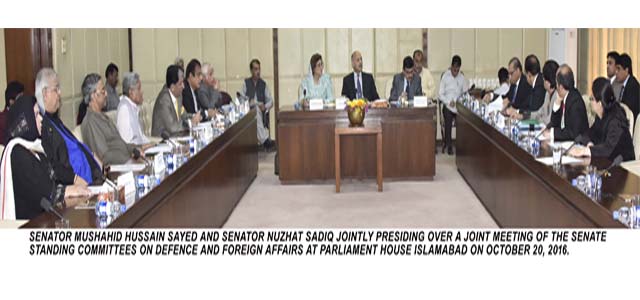 Joint meeting of Senate Standing Committees on Defence and Foreign Affairs in the third sitting passed a unanimous resolution condemning the recent aggressive statements of Indian Prime minister in which he attributed terrorism to Pakistan.
The meeting was held under the joint chairmanship of Senators Mushahid Hussain Sayed and Nuzhat Sadiq here at the Parliament House on Thursday. The resolution also rejected Indian propaganda of surgical strike and asserted that these tactics cannot deviate attention from the atrocities being committed in Kashmir. The committee also commended the world leaders on not supporting India's propaganda during the BRICS summit held in Goa. The committee also took notice of Modi's statement about the Israeli oppression in Palestine and hinting at a similar attitude towards Kashmir.
The joint committee was given a detailed briefing by Secretary Foreign Affairs and Secretary Defense on border situation with India and Afghanistan and Pakistan's defense preparedness. The briefing was followed by question from the Senators.
---
A Meeting of the Senate Standing Committee on Defence and Foreign Affairs 20 Oct, 2016