Joint meeting of Senate Defence and Foreign Affairs Committee
---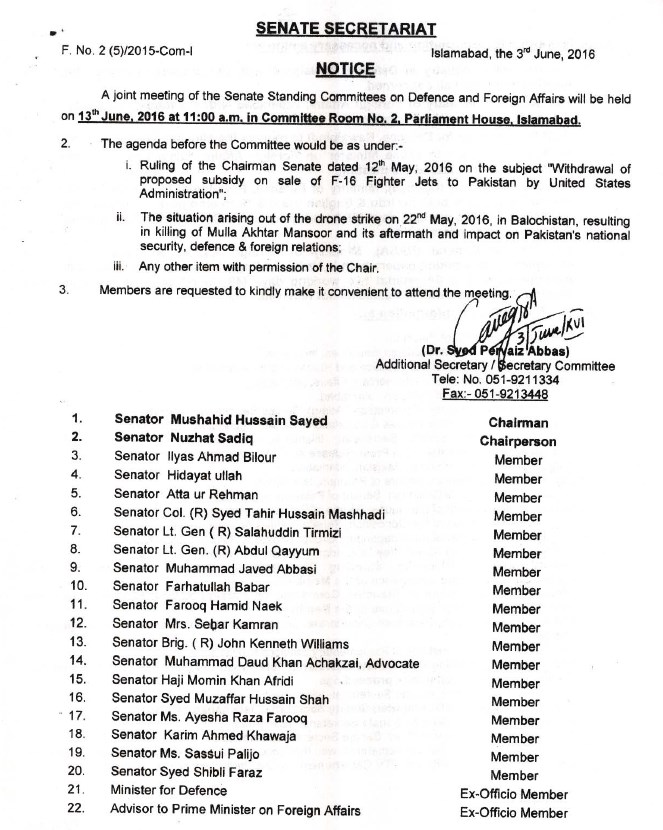 Joint meeting of Senate Defence and Foreign Affairs Committee held: Sartaj Aziz talks of "major realignment in Pakistan's policy as well".  Mushahid says "institutional strengthening, Khaki Mufti harmony and strategic vision key for Pakistan's national security given strategic shift in US policy"
Islamabad, June 13, 2016:  On the direction of the Chairman Senate, a joint meeting of the Senate Committees of Defence and Foreign Affairs was held which was co-chaired by Senator Mushahid Hussain and Senator Nuzhat Sadiq. The meeting had a comprehensive 2 hour discussion in a candid atmosphere where the senators expressed their views on a variety of issues which were responded by Advisor to Prime Minister on Foreign Affairs, Sartaj Aziz, Foreign Secretary Aizaz Ahmad Chaudhry and Defence Secretary, Lt. Gen. ® Alam Khattak. This was the first such joint meeting of the Senate committees.
In his opening remarks, Senator Mushahid Hussain said that the public hearing had two goals, namely, to get clarity from the government regarding the current status of Pakistan-US relations and to propose a national strategy and a way forward to preserve, protect and promote Pakistan's core interest in a rapidly changing region plus the strategic shift in US Asian policy.  Senator Nuzhat Sadiq also said that "our approach is non-partisan, national and forward looking".
Senator Mushahid Hussain urged the need to institutionally strengthen the Foreign Office so that institutional decision making by National Security Committee, Defence Committee of the Cabinet and the Defence Council be promoted instead of a reactive ad-hoc approach which drifts from crisis to crisis.  He also underlined the need for harmony between Khaki and Mufti on issues of foreign policy and national security so that all relevant stakeholders are on the same page.  In this regard, he referred to embarrassments like the killing of Osama bin Laden in May 2011 and Mullah Akhtar Mansoor in May 2016 and there was an inexplicable 24 hour official silence on both occasions.  The members of parliament presented comprehensive suggestions on parliamentary diplomacy which can achieve better results by efficiently promoting the national interest.
All the members expressed their views and gave specific proposals regarding issues of foreign policy and national security.  Senator Nuzhat Sadiq asked about diversification of foreign policy with reference to relations with Russia.  Senator Mushahid Hussain urged that given the fact that in the past parliament had played a proactive role in resolving the Salala crisis in 2011-12 by preparing new terms of engagement with the United States, the time had come to re-visit this issue.  He proposed that a Committee of the Whole of the Senate under the leadership of Chairman Senate could discuss vital issues of national security by inviting all the relevant stakeholders so that an effective and doable way forward is formulated.
Adviser to Prime Minister on Foreign Affairs, Sartaj Aziz talked of a "major realignment in Pakistan's policy" in the context of the "strategic shift" in American attitude.  He termed relations with China and the initiation of CPEC as the biggest achievement of Pakistan's foreign policy since it will promote connectivity with China, South Asia, Central Asia and the entire region. He said it was not about accepting American pressure on a particularly policy but the issue was that Pakistan faced choices in keeping with its national interests and Pakistan made choices that were in its national interest but which may not necessarily be congruent with US interest.  For instance, he cited American pressure on Pakistan's nuclear and missile programme which Pakistan had rejected since it was against Pakistani national security.
Foreign Secretary, Aizaz Ahmad Chaudhry made it clear that Pakistan's policy was clear in not differentiating between 'good' and 'bad' terrorists and nor it allows its territory to be used against any country.  The Defence Secretary made it clear that the issue of F-16 planes was now a closed chapter as May 24 was the last date to accept the American financial terms which had already been rejected.  He said that Pakistan is now looking for other options for buying F-16 planes from Jordan.
The meeting ended with a vote of thanks to Mr. Sartaj Aziz for being punctual and in regular attendance for all sessions and committee meetings of Parliament.  The joint meeting was co-chaired by Senator Mushahid Hussain Sayed and Senator Nuzhat Sadiq and attended by members, Senator Hidayatullah, Senator Lt. Gen ® Salahuddin Tirmizi, Senator Lt. Gen. ® Abdul Qayyum, Senator Javed Abbasi, Senator Farhatullah Babar, Senator Sehar Kamran, Senator Brig ® John Kenneth Williams, Senator Muhammad Daud Khan Achakzai, Senator Syed Muzaffar Hussain Shah, Senator Karim Ahmed Khawaja, Senator Shibli Faraz and Secretary of the Committees Dr. Syed Pervaiz Abbas.
Same version of the Press Release appeared in Senate of Pakistan