Nuclear Energy The Best Option
By Senator Sehar Kamran (TI)
March 24, 2014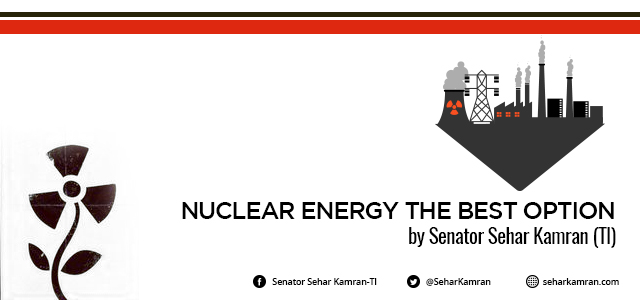 As the groundbreaking ceremony took place near the coastal line of Karachi to build two nuclear power plants, a debate has surfaced within policy circles, political domains and the academia, questioning and answering various concerns regarding the safety and security issues surrounding these nuclear power plants.
According to Pakistan Atomic Energy Commission (PEAC), Kanupp-2 (K-2) and Kanupp-3 (K-3) will alleviate the agonizing energy shortages experienced by the citizens of Pakistan, and particularly the people of Karachi city. The establishment of these two nuclear power reactors could significantly reduce the overall energy shortfall and would constitute a significant part of national energy mix.
Pakistan People's Party has always taken initiatives to develop energy sector in Pakistan in order to strengthen country's socio-economic development. Benazir Bhutto Shaheed in her two tenures truly focused on this sector. In PPP's manifesto for 2008 elections, Benzair Bhutto Shaheed announced that her government will be focusing on 5Es namely employment, education, environment equality and energy.
PPP has always considered nuclear energy as feasible and practical source of electricity production. The late Zulfikar Ali Bhutto, unchallenged father of Pakistan's nuclear programme, started it in the late 1950s with the establishment of Pakistan Atomic Energy Commission (PAEC) and nuclear research institutes. On November 28, 1972, President Zulfikar Ali Bhutto accompanied Abdus Salam and the newly appointed
PAEC's Chairman Munir Ahmad Khan at the inauguration of the first unit of the Karachi Nuclear Plant.
In June 2008, the Pakistan People's Party government announced its plan to build two nuclear power plants, Chasma-3 and Chashma-4, each with a 320 MW gross capacity and largely financed by China. The 300 Megawatt Chashma-2 in fact was officially inaugurated by the then Prime Minister Yusuf Raza Gilani on May 10, 2011. He also approved the construction work for Chashma-3 and Chashma-4 nuclear power plants during the same year.
The tiny seed planted by Bhutto has now grown into a mature and shady tree. Over the years, the PAEC has attained expertise and experience which has no match, at least in the region. Taking confidence from this experience and expertise, the former Prime Minister of Pakistan, Yusuf Raza Gilani, offered at the Washington Nuclear Security Summit held in April 2010 the advance nuclear fuel cycle services to the whole world under IAEA safeguards. Issues concerning Pakistan's capability in this regard are, therefore, unfounded.
There is no doubt that energy shortage is behind Pakistan's economic, political and social problems. Our societal structure today is not the one we had in the 1960s and 1970s. A significant transformation has taken place – the nature of society is not what we have been used to in the past. The scourge of extremism and terrorism has deeply affected the socio-psychic dimensions of our overall social conduct. People are frustrated. They are living in a land where, almost every day, there is news of mass murders, rapes, extra-judicial killings, bomb blasts, strikes and road blocks. The political leadership is bewildered on a number of critical national and international issues. A situation of chaos, anarchy, disorder and confusion appears to be prevailing over the collective social consciousness of Pakistani society. Add to this mix the continuous and unscheduled load shedding and we are left with an increasingly volatile, hopeless and suffering population, losing its last vestiges of faith in its governing systems.
However, ironically, in this clash, the skeptics of the idea of nuclear energy as a feasible source of power generation have put aside some of the fundamental questions which almost every citizen of the country wants answered: how can we ensure uninterrupted energy supply? Why is it necessary to achieve energy security? How can we ensure that? What are the feasible, practicable, rational and cost-effective options to achieve this end? And, how should we proceed towards optimum level of energy security?
Pakistan, at the moment, has an installed electricity generation capacity of 22,797 Megawatt. The average demand is almost 17,000 Megawatt, whereas the shortfall slides back and forth between 4,000 to 5,000 Megawatt. The overall energy mix consists of oil (35.2 per cent), hydel (29.9 per cent), gas (29 per cent), nuclear energy and imported (almost 5.8 percent).
It has been estimated in various governmental studies that in the next 10 years, peak electricity demand will rise four to five per cent.
It is also important to note that Pakistan has almost exhausted its gas reservoirs and is looking for urgent solutions in the form of LNG imports from the Gulf countries. Studies show that gas production is already insufficient to meet the current requirements, and the demand-supply gap in Pakistan will reach up to 17 billion cubic feet per day by 2030. Imported oil prices greatly affect the budget, and in the context of changing geo-political and geo-economic situations and Pakistan's fragile economy, the uninterrupted supply of imported oil cannot be guaranteed. Here it is important to bear in mind that Pakistan meets more than 80 per cent of its oil requirements through import.
One possible solution could be utilizing the hydel potential by building new dams and hydel power production infrastructure, but there are numerous technical, environmental and political problems which have to be overcome before this option can be utilized. LNG import is difficult, using coal for energy production has certain ecological consequences; the same is the case with Shale gas and wind power has transmission network challenges.
Against this backdrop, nuclear energy appears to be the best and most feasible option for Pakistan to resolve its current energy crisis. Pakistan has vast experience, expertise and potential for successfully operating nuclear power plants.
Additionally, the construction of K-2 and K-3 involves the latest Chinese nuclear power plant technology. These plants will have 1,000 Megawatt pressurized reactors, made in China, over which China has asserted full proprietary rights. Moreover, the International Atomic Energy Agency (IAEA), an international body that verifies reactor designs and safety features, has, in its report, shown full confidence in these reactors.
Before choosing the site for the reactors, PAEC has also conducted various geological, ecological and seismic feasibility studies and identified the best sites from every perspective as far as the safety of the nuclear power plants is concerned. At the same time, in a recent letter to different stakeholders, PAEC Chairman has invited all concerned authorities to the K-2 and K-3 sites to brief them about the safety and security features as well as the feasibility of these nuclear power plants.
As far as the safety of K-2, K-3 and all existing nuclear power plants in Pakistan is concerned, Fukushima Response Action Plan (FRAP) has been formulated for all nuclear power plants and under this plan, internal safety reviews have been carried out, safety features of all existing plants have been upgraded, emergency responses have been refined and strengthened and the design-safety of all plants (installed and under construction) has been revisited by the PAEC.
The entire world today is facing the issue of energy shortage in varying degrees. Almost all countries are struggling to meet the energy requirements of a competitive globalized market. According to World Nuclear Association, there are 172 nuclear power plants being built today in the world. In China alone, 30 nuclear power reactors are currently under construction. Pakistan is no exemption to this global trend.
It is important to understand, therefore, that while the world is aggressively moving towards building nuclear power infrastructure to meet its energy needs, we are wasting our time in debates grounded in erroneous and inaccurate assumptions. We have to utilize our full potential to meet our energy demands, and nuclear energy is one of the best, most feasible, practicable, rational and cost-effective sources of clean energy. It is imperative to understand the pulse of society at the moment if we are to avoid aggravating the simmering social, political and economic problems Pakistan faces today.
Same version of the article appeared in THE NEWS INTERNATIONAL
Same version of the article appeared in CPGS