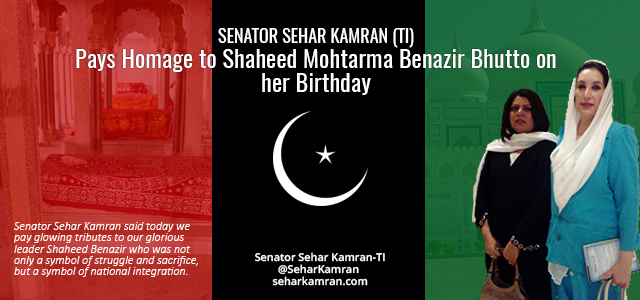 Islamabad, 21st June, 2018:Senator Sehar Kamran (TI), PPP's Coordinator of Central Research, Communication and Social Media Cell, on the 65th birth anniversary of Shaheed Mohtarma Benazir Bhutto, paid homage to the two times former Prime Minister and Chairperson of the PPP. She said Shaheed Benazir was a great leader who led PPP in difficult times and emerged victorious in the face of countless challenges and adversaries.
Senator Kamran stated that Shaheed Benazir spent her entire life for the establishment of an egalitarian, democratic, peaceful and progressive Pakistan. SMBB broke the glass ceiling for women in not only Pakistan but in the Muslim world when she took oath as the first elected female prime minister of the Muslim world.
Senator Sehar Kamran said today we pay glowing tributes to our glorious leader Shaheed Benazir who was not only a symbol of struggle and sacrifice, but a symbol of national integration. She united the country with her vision of a progressive and peaceful state of Pakistan. Shaheed Mohtarma Benazir Bhutto took a number of revolutionary steps and initiatives for women empowerment which will be always remembered in golden words.