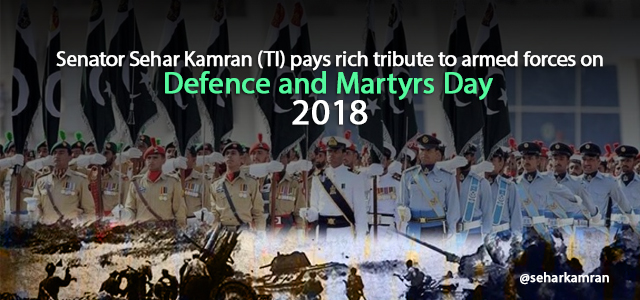 Islamabad, 6th September, 2018: Senator Sehar Kamran (TI), member of the Senate Forum for Policy Research (SFPR) and President Centre for Pakistan and Gulf Studies (CPGS) pays rich tribute to the Pakistan's armed forces on the Defence and Martyrs Day.
She said that the existence and independence of Pakistan are tied to the invaluable sacrifices of our armed forces, who laid their lives to protect the honour of the mother land by defeating the enemy's evil designs at every level.
She stated that great nations always remember their heroes and follow their footsteps.
Senator Kamran lauded Pakistan armed forces for successfully wiping out terrorism in the country through Operation Zarb-e-Azb and Radd-ul-Fasaad.
Senator Kamran said that there is no doubt that today Pakistan is facing multifarious threats and challenges both internally and externally; but Inshallah with the help of Almighty Allah and gallantry of our armed forces, we will defeat all conspiracies as we defeated previously.