Senator Sehar Kamran (TI) Holds Meeting with Dr. Abdullah Al Harbey, Chairman KSA-Pakistan Friendship Group, Saudi Majlis-e-Shoora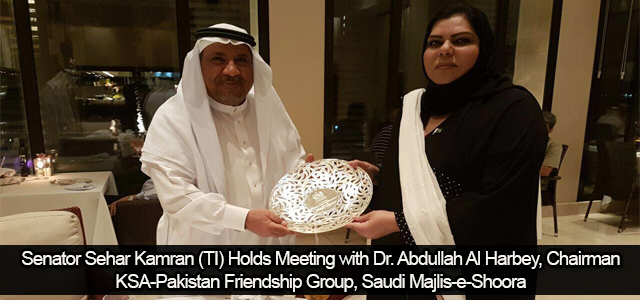 06th June, 2016, Islamabad: On June 5th, 2016, Convener of Senate's Parliamentary Pakistan-Saudi Arabia Friendship Group Senator Sehar Kamran (TI) held a one-to-one meeting with her Saudi Arabian counterpart Dr. Abdullah Al Harbey, Chairman of Majlis-e-Shoora's Saudi Arabia-Pakistan Friendship Group. During the meeting, Senator Sehar Kamran discussed the work-plan of Pakistan-KSA Friendship group with her Saudi counterpart at length. Views on important bilateral issues were also exchanged.
Dr Abdullah Al Harbey recognized and appreciated Senator Sehar Kamran's efforts and her vibrant role in promoting the Pak-KSA ties and her vision for enhancing the bilateral partnership especially in the domain of inter-parliamentary relationship. Senator Sehar Kamran thanked Dr Harbey and said that the focus of the Senate's Pakistan-Saudi Arabia Friendship Group would be on enhancing cultural and education ties between the two countries.
Senator Kamran said the people of Pakistan and Saudi Arabia are bonded at heart with faith, history and heritage. She also stressed upon the need for an increased interaction between Pakistan and Saudi Arabia at the Parliament level, which will further strengthen the relationship of the two brotherly countries.