Senator Sehar Kamran gets Russian award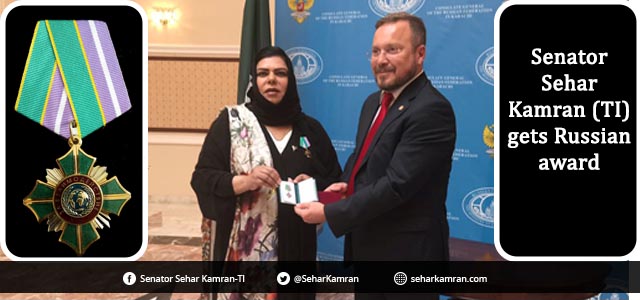 KARACHI, September 1, 2018: President Centre for Pakistan and Gulf Studies, Senator Sehar Kamran was decorated with Russian Federation Award Friday at Russian Consulate Karachi at a simple but impressive ceremony. The award was conferred by the Consul General of Russian Federation Dr. Aleksandr G. Khozin for efforts which Senator Sehar had made to promote friendship and understanding between the two countries.
The Russian government expressed the hope that Sehar Kamran would continue her noble efforts for boosting friendly relations between Pakistan and Russia to benefit the people of the two countries. Receiving the award Sehar Kamran thanked the Russian government for selecting her for this prestigious award and hoped that the political and economic relations between Pakistan and Russia would continue to grow. She praised the joint military drill between Pakistan and Russia to strengthen defence relations as well to imbibe latest technology from Russian Federation.
After receiving the award Sehar Kamran talked to the media present on the occasion and said Russia and China along with Pakistan can play a vital role in the region for the establishment of peace as well economic development. She quoted the example of CPEC which is a source of rapid economic development for Pakistan, Russia supports the project.
Answering a question about US desire for peace in Afghanistan, she said US is not interested in peace in Afghanistan, the Americans are building huge complex for their embassy instead of reducing the poverty and deprivation of Afghan people. So far US as spent one trillion dollar in war torn Afghanistan to win the war, but winning the war is far off dream.
She said it is wrong concept that US wants to leave Afghanistan. They will remain there until and unless the US economy melts down, Sehar quipped.