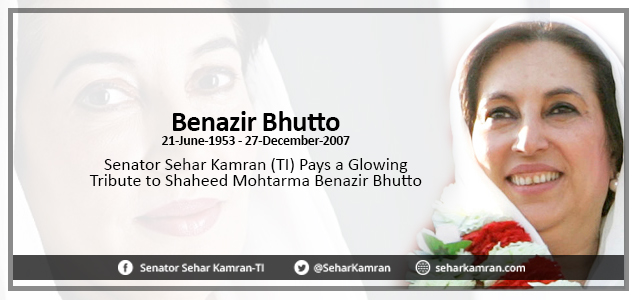 Senator Sehar Kamran (TI) paid a great tribute to the two-time Prime Minister and the Chairperson of Pakistan Peoples Party Shaheed Mohtarma Benazir Bhutto in glowing words. She said Shaheed Benazir was a global figure who inspired millions not only in South Asia but around the world especially women. She said Mohtarma broke the glass ceiling usually associated for women and took numerous steps to elevate their status in the society of Pakistan.
Senator Kamran said Shaheed Benazir's was a true visionary and her contribution in the fields of education, women empowerment, and defence are invaluable and would be remembered forever by all. Her entire life was sacrificed her for democracy in Pakistan, she added.
Senator Sehar Kamran said Shaheed Mohtarma Benazir Bhutto fought courageously against those fractions who could not see a peaceful, prosperous and progressive Pakistan. She said Shaheed Benazir recognised the dangers Pakistan faced in the form of extremism and terrorism and openly condemned such elements who threatened the sovereignty and stability of Pakistan. We must carry on the fight SMBB initiated until we defeat such ideology, she added.