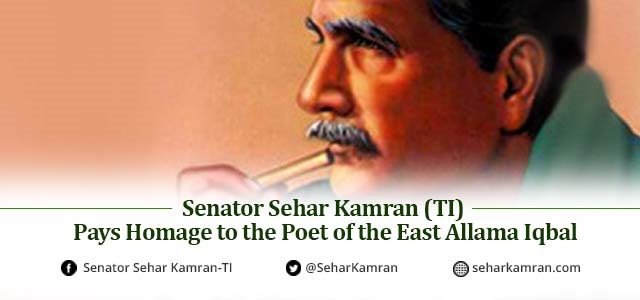 In her message on 'Iqbal day' Senator Sehar Kamran (TI), President Centre for Pakistan and Gulf Studies (CPGS) paid rich tribute to Allama Muhammad Iqbal famously known as 'Muffakir-e-Pakistan' (The Thinker of Pakistan).
She said that Iqbal's poetic and prose works also gives us the message of independence, patriotism and national spirit; and his message of unity is the need of hour. We must follow the path shown by the Allama Iqbal through his poetry; and come together against all the elements threatening the very fabric of our society and country, she added.
As a nation, we must adopt and shape our lives in accordance with Iqbal's message of equality and "khudi" she added. She further said the scope of the work by Allama Iqbal is not limited by any regional boundaries, but is applicable to humanity at large.