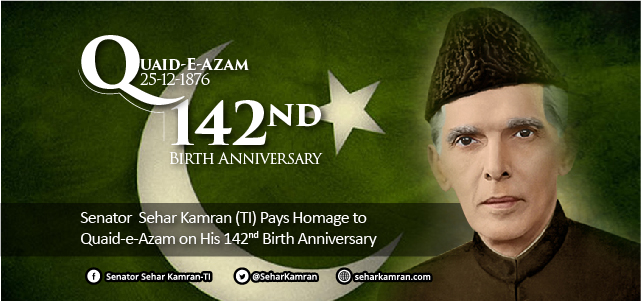 Senator Sehar Kamran (T.I.) in her message for Quaid's 142nd birth anniversary said Pakistan owes its existence to its great leader and beloved founder Quaide-e-Azam Muhammad Ali Jinnah. She said it was only due to Quaid's vision and devotion that Pakistan came into being.
Senator Sehar Kamran said today Pakistan is facing challenges on several fronts, but we as a nation must follow his motto of unity, faith and discipline to overcome the current trials and tribulations for a prosperous and thriving Pakistan. She said in order to achieve substantial development and growth for our coming generations, we must follow the footsteps and vision of our illustrious founding father Quaid-e-Azam Muhammad Ali Jinnah who spoke of an inclusive and impartial government, religious freedom, rule of law and equality for all.
Senator Sehar Kamran further stated that a lot needs to be done in order to transform Pakistan into a welfare state. We as a nation need to ensure and safeguard the rights of all segments of society especially women and minorities, if we want to make sure that the country achieves its glorious destiny as envisioned by our great Quaid, she added.