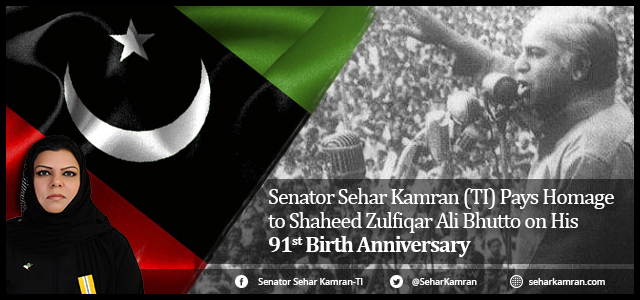 On the 91st birth anniversary of Shaheed Zulfiqar Ali Bhutto, Senator Sehar Kamran (TI) paid a great tribute to the Former Prime Minister and founder of Pakistan's largest political party, Pakistan People's Party. She said the services and sacrifices made by Shaheed Bhutto and his family for Pakistan are innumerable and will be remembered in time immemorial.
Senator Kamran stated that Shaheed Zulfiqar Ali Bhutto is the reason that the defense of Pakistan is impenetrable today, as he founded Pakistan's nuclear program to ensure the future of the country. She said the best way to pay tribute to the great leader is to carry his philosophy and vision forward by devoting all our energies for our motherland, just like he and his legendary daughter Shaheed Mohtarma Benazir Bhutto did. She said this mission is now being carried forward under the able leadership of Former President Asif Ali Zardari and Bilawal Bhutto Zardar who have proved their mettle that they are the true successors of Shaheed Zulfiqar Ali Bhutto and Shaheed Mohtarma Benazir Bhutto.
Today, Pakistan needs a visionary leader like Shaheed Zulfiqar Ali Bhutto to take the country forward. History will always remember Shaheed Bhutto in golden words for his contributions to our great country, she added.